by jeff edwards
Spring is here again. In the Midwest that means wild temperature swings, rain, storms, and of course, tornadoes. I put our Lancair to good use this winter, including a Christmas family vacation to Key West.
Christmas In Paradise
We departed for Florida in beautiful VMC on December 22nd, a day earlier than originally planned due to forecast weather concerns (icing). We flew in to Daytona and enjoyed the sights and gorgeous weather. On the 24th we flew down to the Keys where the family concierge had arranged a very nice private residence rental close to the action on Duval Street. The home was complete with a pool and pool house. My daughter Jenn and her significant other Matt flew with us in the Lancair, while her sister Elizabeth flew in with her family on Delta. We enjoyed all Key West has to offer, including tours of the Harry S. Truman Little White House on the grounds of the old Naval Station, and The Earnest Hemingway Home & Museum, where descendants of his polydactyl cats still reside. After nearly a week in Key West we departed (again a day early for weather) for home.  
Winter In The Southwest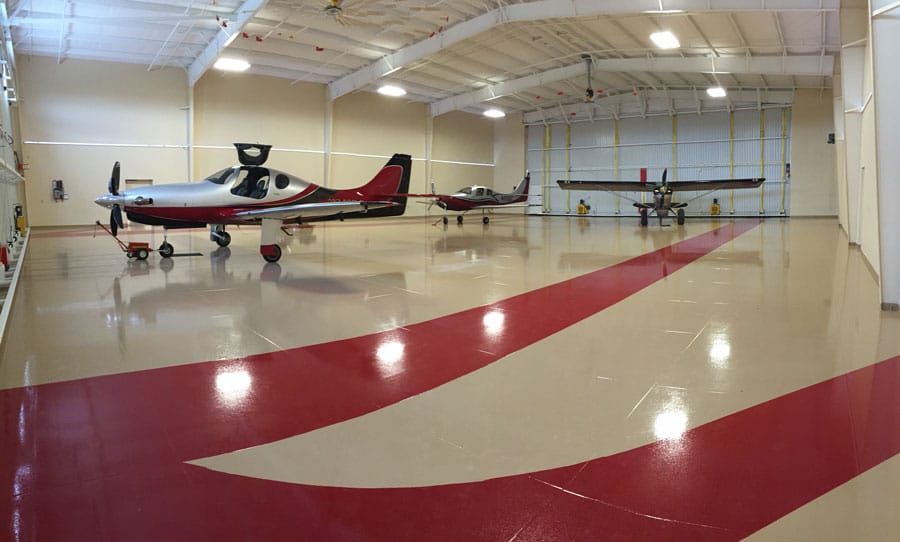 In February, new LOBO instructor Chris Rust and I flew out to Phoenix at the invitation of Dan Coury to give Dan and his son training in their beautiful Evolutions. Dan and his lovely wife graciously hosted us in their brand-new hangar home on Pegasus Airpark. Dan has a cool hangar/man cave which all of you must see.
After our training with the Coury's, Chris hopped a commercial flight home to North Carolina, where he is stationed with the U.S. Air Force. I pointed the Evo northwest to Las Vegas to attend a scheduled conference.
Weather concerns prompted another day-early departure from Las Vegas, but a 97-knot tailwind component afforded a non-stop flight home to Saint Louis. If you are flexible in your flight scheduling (which you must learn to be if you want to have a long GA flying experience) you can avoid most bad weather.
Don't Forget Maintenance
Between the two trips I completed a condition inspection on the Lancair. This is the seventh inspection and 1200 hours for the aircraft. My inspection revealed the need for new tires (which I obtained from Desser Tire), brake linings, generator brushes, and a few other odds and ends, but most importantly, no surprises!
More Options For Training
Last week I flew down to the Atlanta area for business and met Kathy and Andy Velazco. They are both physicians (he is an orthopedic surgeon and she is an anesthesiologist). They are building an Evolution in Matt Collier's Fibercraft shop at Spruce Creek. Over dinner we discussed flight training issues. Kathy and Tim Plunkett, a former U.S. Air Force pilot and retired airline captain, have started Evolution Flight Services, based out of Spruce Creek, to provide flight training and flight services to Evolution owners. They are considering expanding their training to IV series Lancair aircraft.
Along with Chris Rust, who became a LOBO instructor last month, the Lancair fleet is gaining more options for training which is good for our community. Elite Pilot Services continues to provide the lion's share of the flight training, but Lancair owners now have many choices, including John Cook, who is still doing IVP turbine inspections and training, the LOBO-approved instructors listed on our website, as well as independent instructors, any of whom are available to keep you current and sharp.
The New Lancair
Bob Pastusek and I had a chance to talk with the new owners of Lancair International, LTD. Mark and Conrad Hufstuttler are busy setting up shop in a large facility in Uvalde, Texas. The Lancair assets that are not Evolution were shipped to the new Texas location in February. The Lancair molds that were in the Philippines are on a ship headed for the west coast where they will be offloaded and trucked to Texas—a prelude to resurrecting currently out-of-production Lancair models. The Hufstetters have a long history of owning and operating aviation businesses and are excited to be the new Lancair owners. We can expect to have a great relationship with them. You can meet them yourselves at this year's Sun 'n Fun and AirVenture fly-ins.
Other News
The new Evolution Aircraft Company is producing about one new Evolution every three weeks. They are concentrating their efforts on new sales. Matt Collier and Fibercraft hosted a BBQ and open house on April 2 at Spruce Creek before Sun 'n Fun. Don Sak and Paul Herrington, two Evo owners, are organizing an Evo fly-in event in Branson, Missouri May 19-21. Evolution Aircraft is also planning a fly-in on September 29- October 1 at Redmond. And don't forget that LOBO will be having our annual AirVenture banquet on July 27, and the LOBO/Lancair Landing in Santa Fe on August 31-September 3.
We hope to see you sometime this year!
For questions/comments on this post contact Jeff via email: j.edwards [at] lancairowners.com.